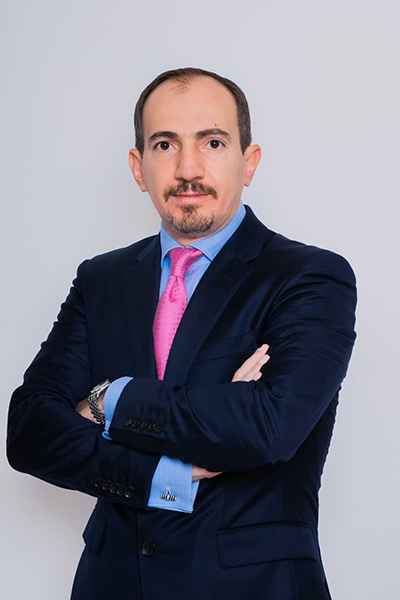 Mojahed is a partner in the Dubai office of Galadari Advocates & Legal Consultants. Mojahed has extensive experience in corporate & commercial, real estate and litigation and is a contributing legal trainer in the Government of Dubai Legal Affairs Department's CLPD program, for which he has received high praise for both the knowledge shared and manner in which the training is delivered.
He has handled a number of local litigation matters and has significant experience with various regulatory bodies in the UAE. Mojahed recently advised on several major litigation matters for key clients regarding complex fraud cases.
He has also advised prominent local and international corporations on several complex and strategic matters some of which included Sharia compliance issues. Mojahed recently advised a local UAE Government in a successful dispute over a major joint venture project, exceeding AED 5 billion in value. Mojahed has extensive experience in dealing with joint ventures and previously advised a major client on a JV regarding a real estate project in Abu Dhabi with a value of AED 600 million.
Mojahed's work with UAE Governments extends to advising on the acquisition of 50% company shares by the Dubai Government of a business based in the Emirates.
Mojahed has an excellent rapport with clients and is often praised for his clear direction, responsiveness and forthright opinion. He has an astute legal mind, offers outstanding legal guidance and clients return due to his exceptional ability to recommend and explain a well thought out legal course of action.
Prior to joining Galadari Advocates and Legal Consultants Mojahed has worked with an international law firm, leading local law firms, Ajman Chamber of Commerce and Industry and Dubai Public Prosecution. Mojahed is often called upon to write and comment on varied new laws and regulations.
Bars and Courts
Education
Bachelor Degree in Law, LLB – 2001 (University of Sharjah – UAE)

Master Degree in Law, LLM – 2005 (University of Hertfordshire – UK)
Languages
Publications
Cheques as a form of security in Dubai or the UAE.

Mitigating the risks associated with contracts.

Nullification of commercial companies in the UAE.

Piercing the corporate veil of an LLC under the UAE Law.

Managers' and Directors' duties under the UAE Law.

An overview of the UAE's new Commercial Companies Law.

Enforcement of Limitation of Liability Clauses in the UAE.
Practice focus
Partnerships, Trust and Sponsorships

Joint ventures

Franchise

Distribution and Commercial Agencies

Structuring and Restructuring

Merger and Acquisition

Corporate Governance

Private Equity and Venture Capital

Islamic Financing and Sharia Compliance

Real Estate

Employment

Corporate Fraud

Litigation