 Aqsa Adil
PRACTICE AREA:
Corporate, Dispute Resolution, Real Estate and Property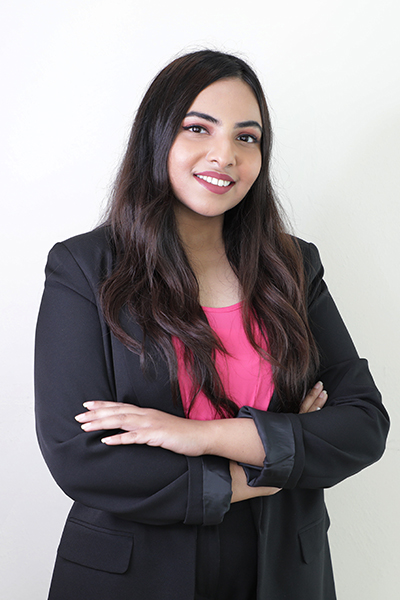 Aqsa is a paralegal at Galadari Advocates & Legal Consultants, based in the firms' Dubai office, she is a member of the Litigation and Corporate Team dealing with Commercial, Corporate, Property and Real Estate Matters. Aqsa focuses on commercial agreements including Articles of Associations, board resolutions, company establishment and assists with case management and conducting extensive legal research in labor, civil, and criminal disputes as well as various other litigation procedures.
Prior to Galadari, Aqsa has interned in the region top tier prominent companies and law firms namely INCE, Afridi & Angell, Winston & Strawn, Taylor Wessing, and Wall Street Exchange LLC including a 6-month internship at the DIFC Courts under H.E. Judge Shamlan Al Swalehi in the Arbitration Department. She is experienced in contract review, amendment and drafting of corporate documents, examination of case files and legal research within the jurisdiction of the UAE and England & Wales. Aqsa is well versed with UAE & DIFC laws and has gained expertise in Arbitration and Litigation through her time in the Dispute Resolution department at various corporate law firms and the Arbitration department at the DIFC Courts.
Aqsa was awarded an LL.B. Honors Law degree from Middlesex University Dubai in 2019. During her university years, Aqsa was the student assistant for the Future Lawyers Network, an initiative in partnership with Microsoft which linked law students with seasoned lawyers from different areas of law by conducting workshops and seminars. She was also the student mentor while in her final year of Law School. Aqsa intends to sit for the New York Bar Exam in 2022.
Other projects and milestones
Aqsa was selected for the national program called e7 Banat – Daughters of the Emirates in 2019 in which 30 girls ages 18-24 from across the 7 Emirates of the UAE (Emiratis and Long-term Residents) are selected to participate in an incubator and seed funding program.
Through the e7 Banat program, Aqsa co-founded a social initiative called PowerUP AE as a member of the 2019 cohort of e7 Banat, which aimed at reducing educational inequality and improving career opportunities for underprivileged youth in the UAE. Her team won the highest funding at the pitch.
Founder of What Pakistani Women Want – an online platform dedicated to supporting the Pakistani diaspora of women all around the world.
In August 2020, Aqsa was elected to serve on the Executive Board 2020-2022 of Pakistan Youth Forum- Dubai (official youth wing of Pakistan Association Dubai) as the Head of Special Projects.
Education
LLB Hons Law from Middlesex University, Dubai, UAE (2019)
Languages